Leapfrog Leappad
Leapfrog Leappad 2
Explorer Learning Tablet
Leapfrog did it again…

Leapfrog Pad 2
LeapFrog LeapPad Explorer Learning Tablet 2 just got better!
Quicker, more powerful and more possibilities!
Want to give a tablet PC to your child ? They have nice features and educational apps, but the real tablet PC's are expensive, too advanced, not a toy for small children and difficult to use for parental control. Now there is a perfect solution: The Leapfrog Pad 2, learning tablet PC for kids!
Help your child create and learn with the LeapFrog LeapPad Explorer. The learning tablet gives you access to more than 100 educational books, games, videos, and apps. Subjects like mathematics, reading, and science are covered in a fun and interactive way. The Leappad's built-in camera can shoot video, allowing kids to make animation and art to share with family and friends.
What is the Leapfrog Pad ?
Designed to be flipped, shaken, and turned by little hands, the Leapfrog Pad comes with a tilt sensor for game control that puts kids in the middle of the action. A 5-inch color touch screen makes it easy for kids of all ages to learn and interact.
Want to see our page with the best Leappad Games? Go to Best Leappad Games
LeapFrog LeapPad Explorer – built-in camera and recorder encourages creativity. Prepare to be amazed by the wacky and touching videos, photos, and artwork that your child will produce using the Leapfrog Pad. Voice-guided instructions make it easy for children to edit and share their creations with friends and family. And with 2 GB of built-in memory, the LeapPad has plenty of space to store your budding director's creations.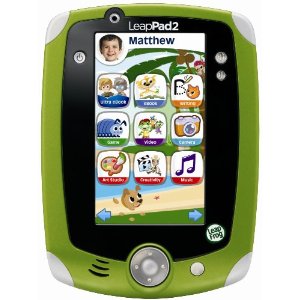 The built-in camera allows kids to become the stars of their own stories. The Story Studio and Art Studio apps allow children to modify pictures they take and drop them into storybooks. Both apps are free and can be downloaded once you register the device.
What's educational about the Leapfrog Pad 2?
Leveled Reading Experience LeapPad's book apps are interactive, cinematic experiences designed to guide children through books and immerse them in the joy of reading. Each book is actually three books in one, with different levels and modes optimized to support reading development. As a child builds his/her reading skills, the levels adjust automatically and are remembered from book to book.
The book app's innovative activities build comprehension skills and expand vocabulary with support features that allow your child to touch a word to see its image, touch an image to see the word highlighted in text, touch words to hear them sounded out, or find definitions in the visual dictionary. All of this with characters that children will love, brought to life through animation that keeps children engaged as they learn.

Discover a World of Learning
With more than 100 learning games, videos, books, and apps available for Leapfrog Pad, it's easy to keep your child entertained on long car trips or at your favorite restaurant. LeapPad has a game cartridge slot for backwards compatibility with the entire existing Leapster Explorer Library, the curriculum covers spelling, phonics skills, mathematics, science, music, geography, and more.
The LeapPad also automatically adjusts learning so that kids can learn at their own pace while staying engaged. They can even practice writing with the included child-sized stylus.
Track Your Child's Progress
The LeapPad's online tool, the Learning Path, allows you to tune into your child's progress and track achievements. You can choose to receive regular e-mail updates on your child's accomplishments, which provide insight into where your child may need additional support and give you new ideas for even more learning fun.
What's in the Box
LeapFrog LeapPad 2 with stylus, five apps (pet pad, cartoon director, art studio, learning songs and one free app) USB cable, installation CD, quick-start guide, and instructions.


More I should know about the Leapfrog Pad 2?
Age: 3 to 9 years
Requirements: 4 AA batteries(not included)
Warranty: 1-year limited
Library of 325+ games and apps
Works with all Leapster Explorer game cartridges, eBooks, videos and more
System Specifications
Screen 5 inches, 480×272 pixel resolution
Camera 640 x 480 resolution capability
Video Recorder 320×240 resolution capability
Input Controls D-pad, touch screen, embedded microphone, front and back camera, motion sensor
Connectors: Cartridge slot, AC adapter, audio jack, USB connector
Battery Duration: Approx. 8+ hours
On-board Memory 4 GB


NEW
Want to see our page with the best Leapfrog Leappad Games?
Go to Best Leappad Games
Reviews
I didn't think it was possible for LeapFrog to come out with a tech toy more comprehensive than the Explorer. Somehow they've outdone themselves with Leapfrog Pad. I plan to purchase a 2nd for Christmas for my daughter.
With the biggest, brightest screen yet and the built-in tilt sensor, it's apparent out of the box Leapfrog Pad is a winner. Tilt it and the pet goes sliding across the screen making the kids giggle. And while it's fun for them to take pictures and videos of themselves and their family and create an "All About Me" story featuring their favorite subject, Leapfrog Pad lives up to the educational expectations typical of a LeapFrog product. For example, the interactive books include three reading levels which automatically adjust as your child progresses.
Completely customizable, users can create a profile complete with a picture of themselves making even the home screen fun as they sign in by clicking on their own picture. The pad works both with fingers and a stylus, and luckily a stylus tether is included. On of my favorite features as an educator is "Pet Pad," and included app allowing users to play with and customize their pets. While some like "Flingo" are fun using the tilt sensor to fling your pet, "Trick Time" offers handwriting practice forcing small fingers to trace letters accurately before moving on.
I would absolutely recommend Leapfrog Pad for it's intended age group, 4-9 years.
Want to read more ?Click Here
You may also like...
Sorry - Comments are closed