Get Healthy, Get Active BLOG
Quick Autumn Outdoor Game
Sidewalk Line Tag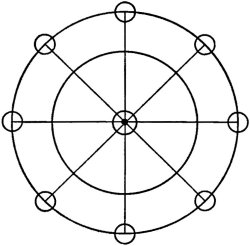 When my kids are bored and I want them to go outside to play, because the weather is just too nice to stay inside, I very often can get the kids off the couch by proposing a game of Line Tag.
And yes, of course I have to join in, until they are ready to continue without me :)
Easy and Fun!
Take out some left-over Sidewalk Chalk and let the kids draw a huge circle on the driveway. Then divide the circle in "pizza-parts".
A game of tag starts and the players are only allowed to run over the lines. Who goes out of the lines or get tagged is the new tagger.
Make it more fun by drawing an inner circle, to provide more paths to run over.
My kids favorite, hilarious outdoor game!