Best Game of the Month October 2015
Best Game: Three Little Piggies from SmartGames

---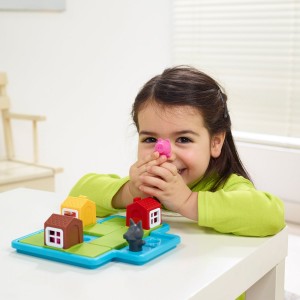 Being a great fan of SmartGames games, I am happy to announce that I proudly present their newest game: Three Little Piggies.
This game won a prestigious price:
Toy of the year 2015 in Belgium !!!!

SmartGames is a producer of the most fun, educational and smart logic games for kids. Developed in Belgium, but making their way all over the world.
The games are easy to play, yet challenging. The child needs to solve a puzzle by placing blocks on a frame. In this game they have to put three piggies outside their houses so they can play and keep them away from the wolf.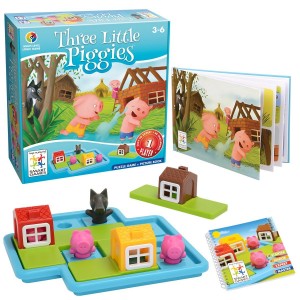 Smart Little Piggies is a perfect brain game for young children. It features 3 big puzzle pieces that are easy to hold, and kids will be intrigued by the way the pigs fit inside the houses and look through the windows. The game includes a story book with images and booklet with 48 challenges (24 with the wolf and 24 without).
For 3 to 6 years old.
And you can find much more of my favorite SmartGames on my page about Brain Games for Kids!
Each of these games offer an unique way to teach logic thinking, problem solving and they are all very well build, easy to play and super fun! I truly recommend these games.
You may also like...