Explore the Best Kids Board Games
The huge supply of kids board games makes it hard to decide which game is fun, educational and suitable for your childrens needs. There are kids board games suitable for 3 years old and up. Through playing games the child will develop an enormous amount of skills, like the emotional feelings of winning and losing, the cooperation with peers, taking turns and follow the games rules.


Especially for these younger preschool children there are all sorts of educational board games to be found. Some teaches to count, like the numbers on the dice and walking the indicated steps on the board. Some will teach the child to sort and match game pieces. And others can help with the development of fine motor skills.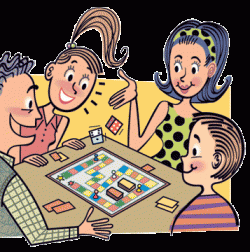 The games suitable for elementary kids are more often competitive in nature and that draws the kids into the excitement of winning, but also helps them to accept inevitable defeats. Of course the kids play in the first place to have fun and they don't realize that they are learning very different skills at the same time too. Every day useful skills like: organizing, strategy, patience, problem-solving, concentration and coordination, to name a few.
We made a selection of the best kids board games:
New sorts of games are the Lego Games. With these games, the kids need to construct the game board and dice first, before starting the game. Lego Games offer an excellent combination of construction and game play. The games are also very flexible and creative since you can build different boards and dices. Check out our Lego Games section.
And you can find much more educational and fun games for kids in our Learning Games for Kids section. Here you can find problem solving, logic thinking, math and concentration games.
Have fun with these best board games for kids !!
Children Learn through Play !







Go to Best Family Games

In this section you will find all time classic games like Monopoly, The game of Life and some newer games that are fun to play for the whole family. Games that every family should have in the house.


Go to Preschool Board Games

In this section you will find the best and most fun kids board games for your preschool children. There is no reading required and the games offer excellent exercises for number recognition, counting and the development of fine motor skills, while having fun playing.


Go to Children Word Games

Here you can find children word games and games focused on phonics. Most games can be played by children of 5 years and older. These games offer a great educational value in playing with the alphabet and learning the sounds and forming words, while having fun.


Go to I Spy Games for Kids

On this page you can find the best I Spy Games for children on the market right now. A lot of kids really love the I Spy Books and the search and find for items. These games take the search and find theory into funny and entertaining I Spy Board Games that children will love playing.


Go to Lego Games for Kids

On this page you will find the LEGO Games, the world's first collection of games you build, play and change. With buildable LEGO Dice and changeable rules, these creative games are a great way of having fun together with family and friends.


Go to Geography Board Games for Kids

Geography is often considered as boring and not much fun, but it is an important subject in our lives. Through geography we learn to understand the world, the countries, their cultures, languages, religion and much more. Start making geography fun for your kids by playing these interesting and fun geography board games. They will improve their geography skills, without the "drag" of learning, but by having fun!