Indoor Activity for Kids
Flip2BFit
Fun indoor activity for kids
Get ready for a fun indoor activity for kids !!!
Flip2BFit is a super new, innovative Fitness product developed to fight childhood obesity! The founder, a collegiate athlete and her father, a physical education professor, created this exciting new fitness game to get kids up and moving while making exercising FUN! Flip2BFit is a board game that gets kids jumping, stretching and twisting in order to race to Springers Park and Win!
Get kids off the couch with this fun, and exciting active fitness game!


We love Flip2BFit
 and we are really happy to promote such a great product. It receives very good reviews, the kids love to play it and this product should be in every pre- and elementary school so they can offer fun indoor activities for kids during rainy days. Flip2BFit is a great addition to any physical education program in schools or at home as a fun party game. Everybody can play, it's fun for young and old. This game not only teaches about healthy food and exercise choices that kids can make during the day, but in addition it shows that being physically active is FUN!



What is Flip2BFit ?
Flip2BFit is a new product that encourages children to be active and make healthy choices in their daily life. It's a board game that makes children jump, stretch and twist to be the first to Springer's Park while having great fun. The game can be played with 2- 4 people, or with larger groups of kids who play in teams. Flip2BFit is excellent for physical education class on rainy days or just for fun as an indoor activity.
Flip2BFit is a great company that fights childhood obesity and gives back locally too! Flip2BFit proceeds are donated to local and international organizations aiding in support for a healthy life for children and women.


More I should know about Flip2BFit ?
Have Fun, Get Fit, Help Others is their motto.
They also developed another game focused on fun fitness activities for kids: Bakari
.
This is a memory game where you first challenge your mind to find two matching cards and then you challenge your body to do the exercise on the card to score points.
Memory was never so much fun!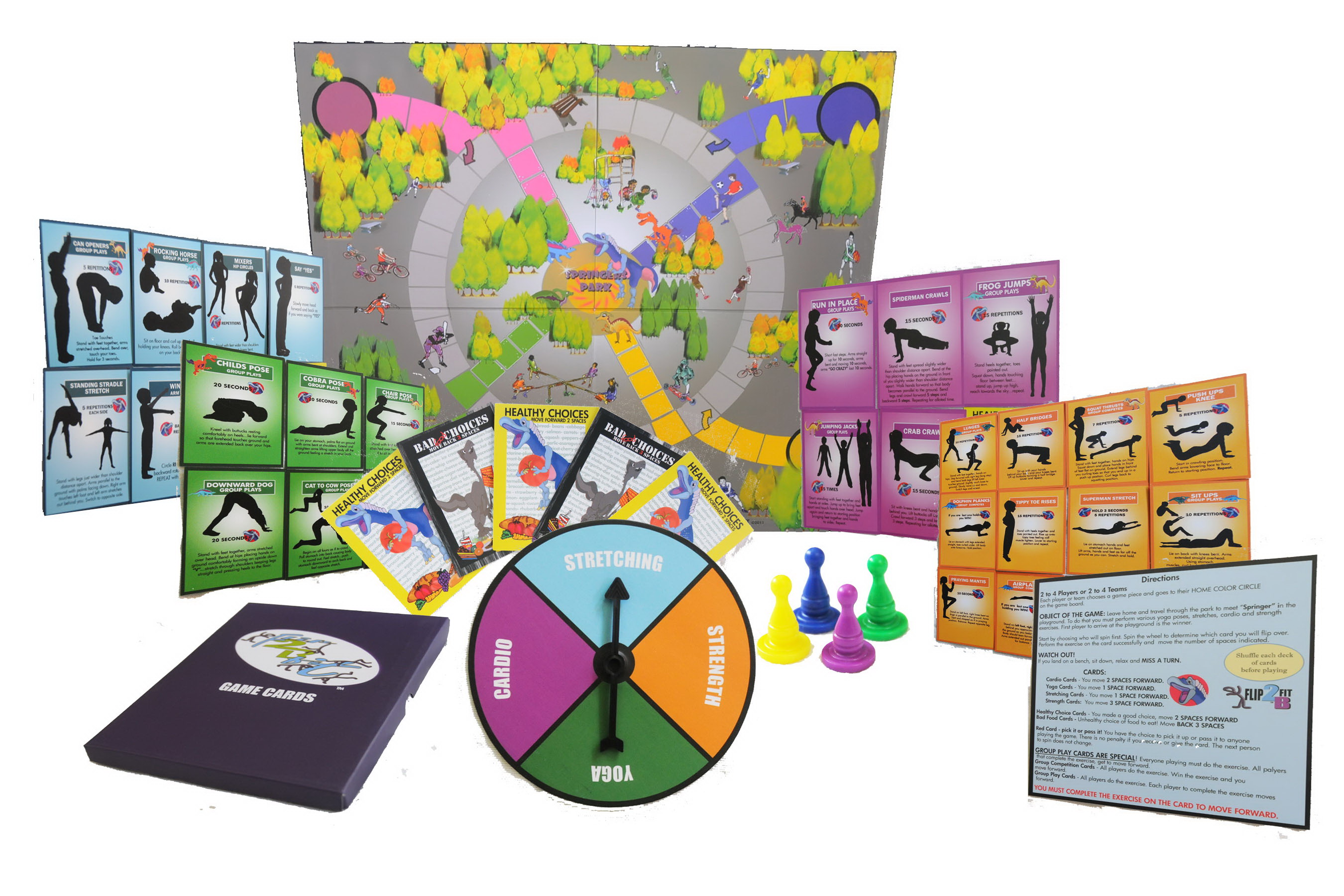 From the developers of Flip2BFit
With the recent childhood obesity epidemic and more and more kids hiding behind technology, the founder and her dad thought it was their purpose to create a product that got everyone UP and MOVING! They developed a line of fun fitness games for kids in order to get everyone off of the couch and teach that being active is fun. With these simple ideas Flip2BFit and Bakari were born.
One exercise at a time, Flip2BFit gets our children off the couch having fun together and opens their minds to the simple aspects of exercise and living a healthy lifestyle.


Where can I get Flip2BFit ?
You can buy this game on Amazon.
Or go to their website and explore this new and innovative line of fun indoor activities for kids. We love their products and hope you will love them too! Visit Flip2BFit here.



Personal Review
We own this game and play it quite often. My kids really love doing it and of course they want me to join them. So we all get our portion of energy burning exercise in this house and believe me, you are going to sweat from playing this game! And it is fun for young and old!
This game is the perfect solution if you have to keep the kids entertained inside the house for a long time. This way they burn off the excess of energy in a fun way. It is also very good gross motor skill training for kids who need that. My three year old happily joins us in playing this game, although some activities are a bit too difficult for her and the game is a bit too long, but you can stop whenever you want.
The game plays good and is easy enough for young children to follow. At your turn you spin the spinner and you have to pick one of the cards: Yoga, Strength, Stretching or Cardio. Depending on the card you pick, everybody or only the player who spun the spinner has to do the activity and gets to move his pawn on the board. Some cards call for competition: only the one who can do the activity the longest, moves. And there are good and bad luck cards that make you move forward or backward.
My son brought this game to his school for show-and-tell and the class decided to play it and they all had great fun. His teacher bought the game the same day! It is truly excellent for schools and daycares where you have to entertain kids on rainy days.
This is a very unique and original game. I am glad we have our copy.
You may also like...
Sorry - Comments are closed