Logic Games for Kids
Best Logic Games for Kids
---
Games that gets the brain a good work-out! These logic games for kids are fun and educational. They are focused on learning and improving thinking skills. Most games can be played by children 8 (sometimes 6) years and up. Mindware and Thinkfun are two manufacturers who offer an extensive list of very interesting games for both kids and adults and they all focus on the logic thinking process while having fun.
---
The fun of logic games for kids is that most of the real good logic games is actually fun for young and old. Get the brains working and solve the puzzle.
Create smart kids with these logic games. This will give them something to think about! Most of these games are also original to give at birthday parties or holidays.
Our selection of Logic Games for Kids
---
RUSH HOUR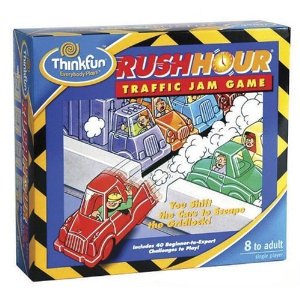 This is a very famous game that is suitable from 8 years and up. It is a strategic game that stimulates logic thinking and strategic planning. It's also used in elementary math classes.
This logic game is about putting cars on a grid to match your challenge card and then try to get the red car out of the grid. This game has four levels so it is fun for children and adults.
There is also a Rush hour Junior version of this game, suitable for kids between the age of 6 and 8. Have fun with this game!
CHOCOLATE FIX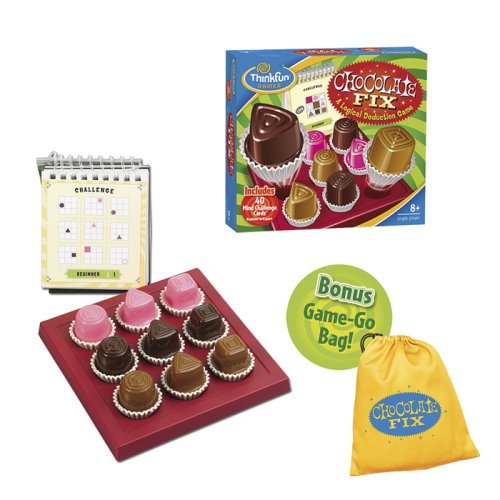 Follow the clues on the challenge card to figure out where the chocolate pieces belong in your chocolate box. There are 9 pieces of chocolate in 3 colors and 3 shapes. Sounds simple, but it's more challenging than you imagine and great fun for both adults and kids. Requires a lot of logic thinking and this game can be addictive.
The game has four levels of play from beginner to expert and can be played by one child, but you can easily work on team building if you play it with more kids, to stimulates and express the logic thinking process. This logic game for kids is for 8 years and older.
LOGIC LINKS PUZZLE BOX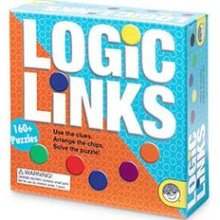 This is a puzzle solving game that requires logic thinking and reasoning. Read the clues and try to find the correct answer. The game can be played by the kids alone, but it is easy to transform it into a team building game or played against each other. These logic games for kids have different levels so children of different ages can enjoy this game and have hours of fun. Very educational and improves logic thinking. From 6 years and up.
MASTERMIND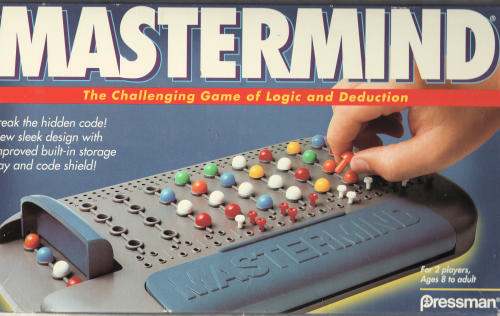 This is a classic game. The game is played by two players; one is the code maker and the other the code breaker. The hidden code consists of 4 colored pegs and the breaker gets cryptic clues about color and position. It needs logic thinking and deduction to break the code. <Br>From 8 years and up. There is also a Mastermind for Kids on the market, which is an easier version of the original and the theme is a jungle setting. The code consists of 3 jungle animals in 6 different colors. It's easier for younger kids (5 years and up), but a lot of reviews mention a design problem. The animals are not stable on the board and easily fall over and they are difficult to handle. Better get the original Mastermind and tape of the fourth code space and remove some colors.
CONNECT FOUR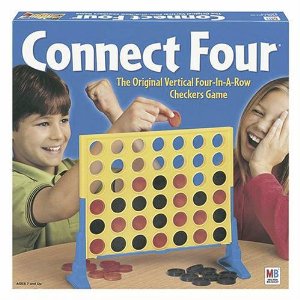 This game is centuries old and still a classic and fun.
Played by two players of 7 years and up.
The goal is to get 4 checkers in a row. This can be vertical, horizontal or diagonal and at the same time block your opponent.
The rules are very easy and this logic game for kids is very easy to learn, but every game is fun and challenging. It requires strategic and logic thinking.
SmartGames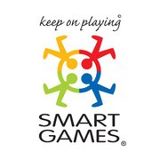 SmartGames is a company located in Belgium (Europe) and they make Logic games for young and old. These one-player games are very well designed, educational and very interesting to play. We devoted a whole page about these Brain Games for kids.
This learning games for kids website is build for you, to make the best choice for your children's need. On this logic games for kids page you have been able to view the best selections of logic games on the market right now.
Looking for other educational and fun kids games?
You may also like...
Sorry - Comments are closed