Kids Word Games
The Best Kids Word Games
---
Is your child
NOT interested in learning their ABC's
or reading at all?
With these kids word games you'll stimulate their interest in a fun way, so that the child doesn't see this as learning, but just playing a fun game. And that's what you want to reach!
Playing word games for kids offers several learning advantages. He or she is not only building word knowledge, but also improving his social skills by playing with friends and family. That's quality time!
Playing kids word games is an excellent way of improving different language related skills like:
Letter and word recognition
When a child plays with letters and words he or she gets more used to their look and feel. Beginners increase their familiarity with letters and
combination's of letters and older children build more
awareness of words and their correct spelling.
This can be an important part of learning to read. A child who has had fun and success in word games may be more secure about his or hers language skills and more likely to feel comfortable with reading and writing.
Playing word games is an excellent way to broaden and expand the child's vocabulary.
Check out our selection of the best, funniest and educational word games for kids.
Best word games for kids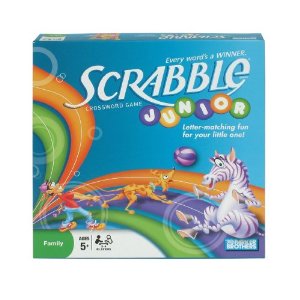 What a great way for kids to play America's favorite word game! Scrabble fun for younger kids, as they match picture words with letter tiles! Older players can use the reverse side of the board to form words!
Ages 4 & up. Classic board game provides children the opportunity to work on their spelling and reading skills while having fun.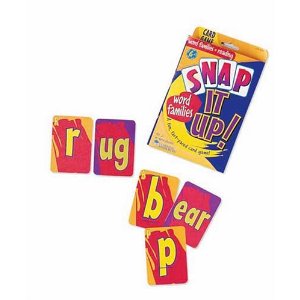 This exciting, fast-paced card game provides kids with hard-hitting practice in reading skills! Players pick and pass cards as fast as they can to spell words. It's fast! It's crazy! And it's so much fun, kids will want to snap it up again and again! Reinforces word families, spelling and reading skills.
Children of the age from 5 to 10 years old love playing this kids word game!
What's Gnu? It's a three-letter-word race game that spells F-U-N. A great way for younger players to practice their word recognition and spelling skills, this game is a fun confidence-builder. Players slide the "Letter Getter" forward to reveal two letter tiles, and then use them to create three-letter words by filling in the blanks on their Word-Starter cards. The player who spells the greatest number of words wins. This is a very creative and educational game. For ages between 5 to 8 years.
Here's a specially designed Boggle game that helps preschoolers learn their ABC's! Boggle Jr.'s easy matching game teaches them letters, spelling and reading, all while they're having fun! With two skill levels, players can challenge themselves further as they become more adept at identifying letters and words. This is a wonderful game for learning picture recognition and verbalization and moving on to spelling three and four letter words. An excellent and creative learning game for 3 to 6 years old.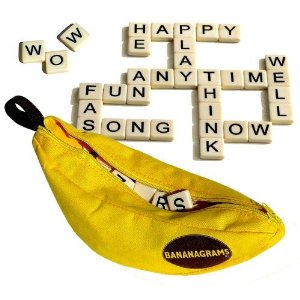 Bananagrams is a fast and fun word game that requires no pencil, paper or board. In this unique word game, players use tiles to create words crossword-style. The first player to use all their tiles is the winner. With multiple ways to play, this game is perfect for beginning spellers, as well as more advanced players. It's original, super fun and portable. A topper in the reviews! For 7 years and up.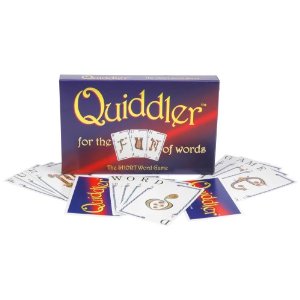 Another family favorite! This game is like scrabble with cards. The challenge of Quiddler is to arrange your entire hand into everyday words. In this fast-paced game, draw and discard in turn. Quiddler is very educational too, it develops vocabulary, spelling and imagination. It's a lot of fun and challenging too.
From 8 years and up and for 1 to 8 players.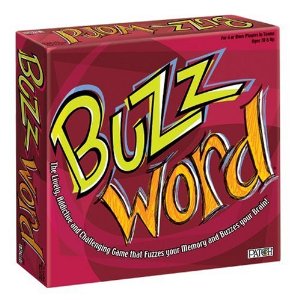 Here is a game that won several awards. This game is for 10 years and up. You and your teammates have 45 seconds to solve 10 clues, and all the answers contain the "Buzz" word. This is a challenging word game that's easy to learn and lots of fun to play. A fast game that gives the brain a good work-out. A real family game, but too difficult for younger children (under 10).
Have fun with these kids word games!
More word games can be found at the Board games section! In our Board Games section you can find more kids word games.
The games are focused on phonics and word forming and are suitable for younger children too. This link will bring you to
Children Word Games.
This learning games for kids website is build for you, to make the best choice for your children's need. On this kids word games page you have been able to view the best selections of word games on the market right now.
You may also like...
Sorry - Comments are closed