Educational Computer Games
Educational Computer Games for Kids (Part 1)
---
There are all sorts of educational computer games for kids and those games are
fun to play
while the children are
learning
lots of new skills. These games are on the market from preschool and older.
Some teaches reading, typing, math, logic and even languages. On this page we focus on educational software made for
preschool and kindergarten.
Educational computer games can help the child become familiar at the subject or can be used as support to strengthen weaknesses on that subject or skill.
The good thing is that most kids like these kind of games so much that
they don't realize that they are learning or improving their skills. The
most popular educational software programs are from the manufacturers Reader Rabbit and Jumpstart.
Although playing with friends and family is lots of fun and very educational for the social skills, there isn't always somebody around to play with. The educational software for kids is played by the child alone and is a very good boredom buster and the child will learn or improve various skills while having fun.
Because most children will like this so much, it's advisable for the
parent to guide the child and to set a time limit the child spend behind
a screen (computer and television). The variation in having passive and
active time is important for a healthy lifestyle and the development of
the child.
We made this selection of best educational computer games based on the following criteria:
* Fun to play
* Educational
* Quality
We hope you can find the educational software for your child that suits your child's need and interest. Have fun and grow!
Educational software for preschoolers (3 to 6 years)
SCHOOL ZONE ALPHABET EXPRESS PRESCHOOL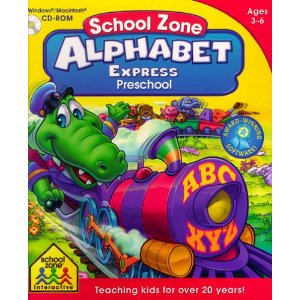 This educational software teaches the kids the letters of the alphabet through songs, movies and games. This award winning program from School Zone introduces skills to help the children learn to read and spell. The children will have fun while they are gently introduced to every letter and sound of the alphabet.
TLC Dr. SEUSS PRESCHOOL LEARNING SYSTEM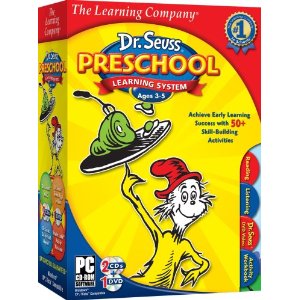 This package contains two famous stories from Dr.Seuss told as `living books`. The books are told through animated movies and the child can click on the different objects in the movie and those objects react in some way. These books are entertaining to watch en they teach the children the alphabet letters, sounds, rhyming, vocabulary and color matching skills.
This game is best for ages 2 to 4. Winnie the Pooh is throwing a birthday party and the kids have to help him by doing educational games. The children will learn letter and number recognition, phonics, sequencing and more. The games have three levels of play, which makes it nice to grow with the child.
There is a lot to see, hear and do in Winnie the Pooh land, so the children will love playing this for a long time. Very captivating for young audiences.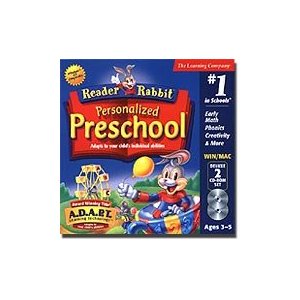 The famous Reader rabbit software from the Learning Company is known for it's educational value and creativity. There are lots of games to play and movies to watch. While having fun the children will learn pre-reading, counting, math, and language activities. It's a fun game, very entertaining with the games ans songs and it has good graphics.
Educational software for kindergarten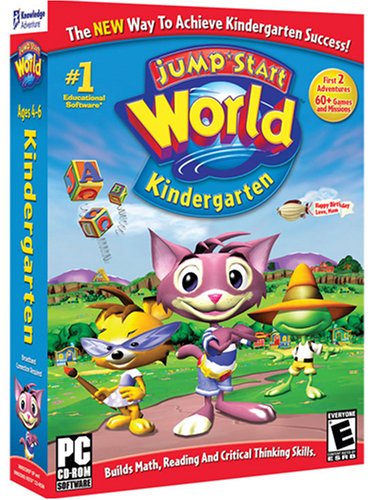 There are several Jumpstart software DVD's on the market focused on kindergarten. This one is one of the newer versions and it's an adventure in 3D. The graphics are beautiful, kids will love this. It's very entertaining, fun and educational. This game is very broad, it will teach math, reading, science, art and critical thinking through more than 30 different, engaging and educational games. One thing to keep in mind: The CD in the packet only contains the first two levels, after that you have to buy the next levels for 8 dollars each or become a Jumpstart member for 75 dollar a year. But it's a great game that teaches a lot and kids love it.
DISNEY LEARNING KINDERGARTEN BUNDLE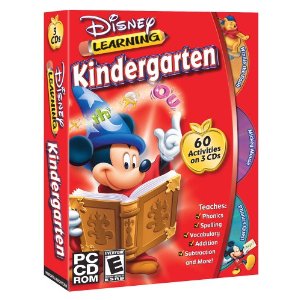 This educational computer game offers hours of fun with all the activities and the different levels of play. The Disney characters Mickey Mouse and Winnie the Pooh are cute and the games are entertaining and educational to play.
The game teaches critical thinking skills and problem solving skills. And of course the game teaches primary reading skills, like phonics, vocabulary, spelling and word building. It's an fantasy and adventure game the kids will love.
READER RABBIT PERSONALIZED KINDERGARTEN DELUXE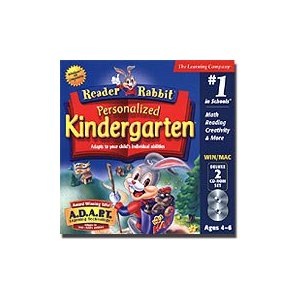 This educational computer game for kids teaches them a full range of kindergarten skills. The game is entertaining and fun.
The learning skills focus on early reading, number, measurement, critical thinking, time concepts and more. Reader Rabbit software is known for it's educational value and is used in a lot of kindergarten classes. The children enjoy playing them while learning or improving new skills.
PENCIL-PAL KINDERGARTEN JEWEL CASE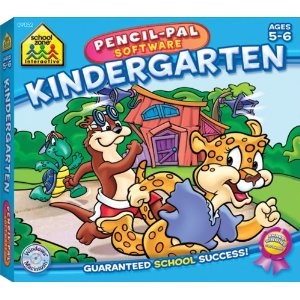 This educational computer game is from School Zone. It features cute characters and teaches pre-reading and math skills.
The program also offers fun games like puzzles, music, art studio, coloring, movies and jokes.
The exciting activities in the game will keep the kids motivated while learning lots of new skills.
This page was all about educational computer games for kids. We made the best selection of preschool and kindergarten software for your children.
On the next page we offer more selections of learning skills through computer games. On that page you will find educational software to improve reading skills, math skills and software to introduce foreign languages to children. These computer programs are focused on elementary school aged children. You can click here to see our selection to find the best one for your child's needs.
You may also like...
Sorry - Comments are closed