Smart Games for Smart Kids
Brain Games for Kids
A great work out for the brain, these brain games for kids! This will get them thinking..
Fun to play and a great stimulation for the logic thinking skills, the problem solving skills and the spatial/visual understanding of a problem.
Puzzle games are a great gift for smart kids. Most of these games are one-player games, but it is easy to make them into a relay by the use of a timer, or let them solve the puzzle as a team.
Smartgames is a new producer of brain games for kids. They are located in Belgium and they make high quality puzzle games for children and adults.
Best Children Games is proud to introduce you to these "secret" brain games. A great find and not on everyone's shelf (yet).
These games are for sale on Amazon, but are hard to find. They are imported from Europe and quite new here in America. We believe that these games have the potential to become a big hit in America, since they are creative puzzle games with simple rules. A few pieces to keep it simple, yet challenging enough to entertain for hours.
Their games have an original concept, good looking, nice themes and are made of high quality wood or plastic. And the games play very well.
The best Brain Games for Kids
Roadblock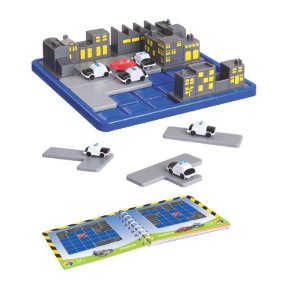 To play: Open the book with the 60 challenges. Set up the scene with the houses and the red escape car. Your object: Place the police cars on the grid, so the red criminal car cannot escape. Sounds simple, but this game has 4 levels of difficulty to keep young and old minds busy. From 7 years and up.
Camelot Jr.

A very cute logic game! Make a path so that the prince can get to the princess without having to jump. Geared toward the slightly younger children. This game made of quality wooden blocks is fun to play and challenging enough for kids. 48 challenges, for age 4 – 9.
This game receives super good reviews from customers and having the game myself, I totally agree. The ideal age for this game is 4 – 6. And make sure they start at the first challenge, because the level progresses logically.
Airport Traffic Control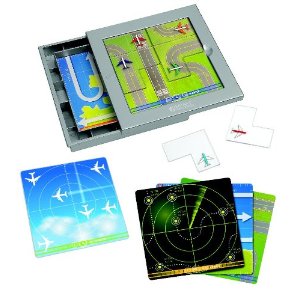 Be the traffic control commander! Guide the planes safely to the ground. To play: put in a challenge card and try to put the transparent airplane tiles on the right positions so the planes won't collide. 4 levels to play that are totally different from each other.
We also own this game and I haven't been able to get past the junior level…yet…Tough game, really challenging. Amazing original and very well designed, it even looks interesting on the table.
For 8 years and up.
Color Code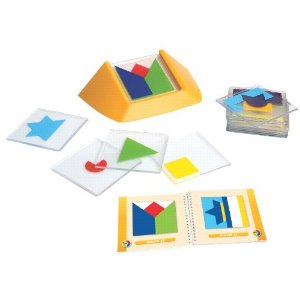 Color Code is another original, smart and fun game to play. To play: open the book en try to manage you blocks in such a way that the image in the book appears on your panel. Sounds easy, but is quite a challenge. A great game to develop visual perception skills. It receives very good reviews. Young and old loves to play this and solve the thinking game.
100 challenges, 5 years and up.
Anti-Virus
This game won rewards! Try to remove the red virus from the board by sliding the pieces diagonally or in groups. There are 60 challenges and 5 levels. Even the junior levels are challenging, so this game provides hours of fun play. A difficult game to put away….Careful, addictive. For 7 years and up.
Temple Trap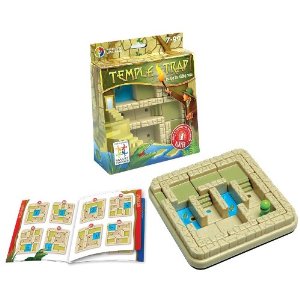 And the games keep coming….yet still original, fun and challenging!
In this game the walls can move. You have to escape this temple, but in order to do so, you have to move the walls to let you escape. 48 challenges, from easy to difficult. And yes DIFFICULT, the higher levels require more than 50 steps to find a solution!
This adventure in the cursed maze is original, has a great theme, great feel and great executed. Smart game from Smartgames! 7 years and up.
Penguins on Ice
'
'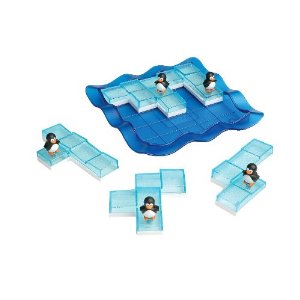 What a great design! Original and fun Award winning game!
Can you put all the penguins on the ice? "Shape-shift" the puzzle pieces and the pieces become the puzzle. Change the puzzle pieces so the penguins end up on the right spot. 60 challenges for ages 6 and up.
The penguins really look cute and this is another addictive, challenging puzzle for young and old. A great gift!
Three Little Piggies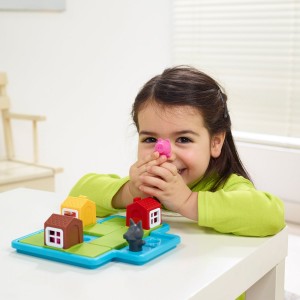 Being a great fan of SmartGames games, I am happy to announce that I proudly present their newest game: Three Little Piggies.
This game won a prestigious price:
Toy of the year 2015 in Belgium !!!!

The games are easy to play, yet challenging. The child needs to solve a puzzle by placing blocks on a frame. In this game they have to put three piggies outside their houses so they can play and keep them away from the wolf.
Read more about this game on our page Three Little Piggies.

Gravity Maze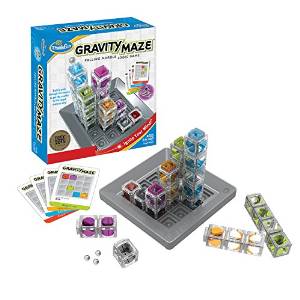 This gravity powered logic maze is sure to put your visual perception and reasoning skills to the test. The towers can be arranged in a wide variety of visually stimulating structures but, for each challenge, you'll have to think carefully to build a path that will carry your marble to the Target Tower.
Your Goal: Create a maze that will carry a marble from the Start Position to the Target Tower. You get 60 challenges with four levels of play: Beginner, Intermediate, Advanced, and Expert
Visit our page about Gravity Maze from Thinkfun!
Best Children's Games hopes that you liked our selection of brain games for kids. We personally love these kind of puzlle and thinking games. Especially the games mentioned on this page for their perfect executed design and original concept. All the games are fun to play and they play really well.
Thank you.
Other Learning games for kids:
You may also like...
Sorry - Comments are closed